Now's the time to get up to speed with what you read!
Got reading? What busy professional doesn't! Learn how to conquer your reading workload, both on paper and on-screen, NOW.
Got reading? What college student doesn't! Learn how to easily get through all your academic reading, both on paper and screen, NOW.
Want to read more for pleasure? NOW you can with Abby's simple strategies for reading better and faster on all kinds of materials.
I can not thank you enough for your course. I feel "brilliant" when confronted with loads of books, magazines and newspapers. Bring it on! I now have the tools to work through any stack of reading materials with complete efficiency! 
I've almost tripled my reading speed within 7 days. I wish I took this course twenty years ago.
Life changing course in just 5 hours!
Handcrafted by Abby Marks Beale
The only online course created by America's #1 Speed Reading Expert.
Personal Help from Abby via Email
Ask Abby questions ANYTIME through the Email button on the user interface.
Track Your Progress
Measure your speed reading improvement through 17 timed reading exercises and a self-evaluation of habits assessment.
Read Faster After Only 5 Hours
In just nine, half-hour modules, you will become a better, faster and more confident reader.
FREE Webinar Playback
Learn more about what's involved 
with smarter and faster reading.

Simply register below for Abby's
FREE 45-minute webinar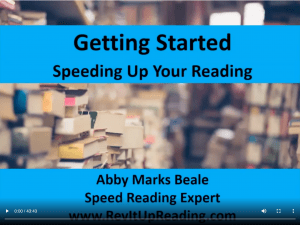 Give the Gift of Reading!
Perfect for your favorite high school or college student, busy professional or other friend or family member who just wants to read smarter, faster and just plain better. Purchase a 90 Day Access Gift Certificate for someone else today for just $99!
Great Reading Ideas from Our Blog
Like most of you, I am someone who increasingly reads content online. But the experience can be quite painful because of the visual distractions of flashing ads, videos that start to play on their own and disjointed line lengths of the text. There's nothing more...
read more
Join the thousands of people who want to be smarter, faster and just plain better readers. On Rev It Up Reading Revolution you'll learn tips and secrets for becoming a more confident reader and how to make reading more enjoyable.
Listen Now!
Abby has created many ways for you to get started on your speed reading process. By joining our mailing list you will get access to Abby's free resources including
10 Minutes to Faster Reading
and her favorite exercise called
Discipline Your Eyes
. As a bonus you will get a $50 off discount coupon for her online strategic reading course.
Get your free resources by signing up to our mailing list!
Have a Question About Speed Reading?
Here's your chance to email Abby anything about speed reading! She promises to get back to you within 24 hours.